Anthony Maydwell.com
Score Music Publishing Page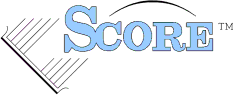 Score is without doubt the most sophisticated music publishing software currently available.
XP/Vista compatible Score Version 5 (WinScore) was Beta released to current users in February 2011.
This represents the first major upgrade in over a decade.
It takes a little time to learn but its power for manipulating material editorially is second to none.
SCORE (San Andreas Press) The official site
SCORE Download Page Score users upgrade pages
Scoreview Software a freeware score file viewer and printing programme
Perth Score Archive Files in the score format for free download.